Through the Mangrove Tunnels
featuring the JACK Quartet + Steve Beck + Russell Lacy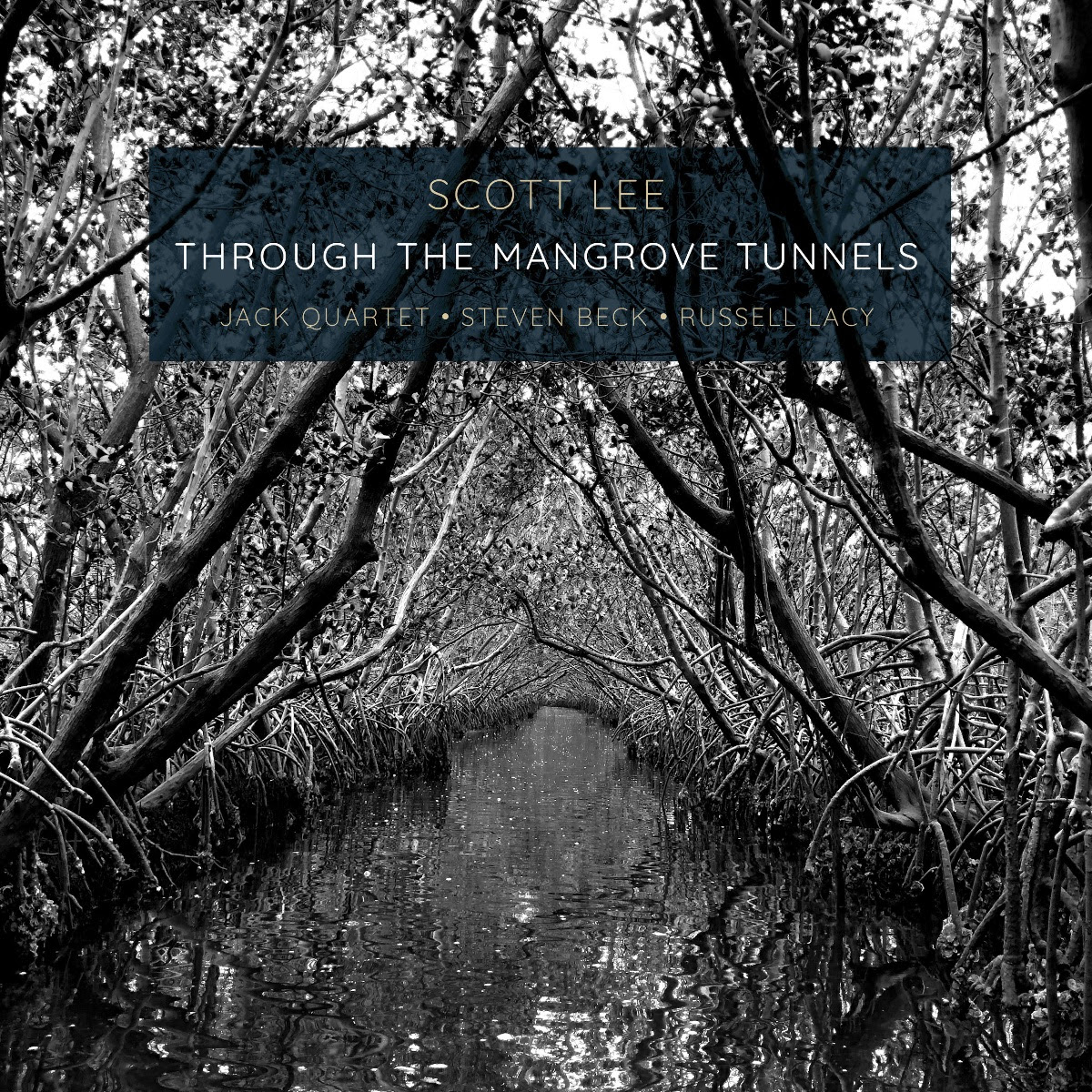 Inspired by his experiences growing up exploring the swamps and bayous of Florida, composer Scott Lee's album-length work Through the Mangrove Tunnels features the JACK Quartet with pianist Steven Beck and drummer Russell Lacy performing eight genre-straddling movements. Ranging from ominous and eerie grooves with otherworldly flourishes to ethereal, gliding strings over pulsing drums and looping harmonies, the music evokes both the dense, swampy undergrowth of the mangroves and the expansive seascape that surrounds them.
Through the Mangrove Tunnels draws from Lee's memories as well as the colorful history of Weedon Island, a nature preserve in St. Petersburg, Florida. Weedon Island's many legends include ceremonial gatherings of Native Americans, landings by Spanish conquistadors, burned-down speakeasies, shootouts, bootlegging, a failed movie studio, plane crashes, and an axe-murder. Despite the island's long history of encounters with humans, to the newcomer it appears to be a pristine natural landscape. Though they have been almost fully reclaimed by nature, traces of its history remain: the line in the dirt of a long-forgotten airplane runway, an ancient sea-faring canoe buried in the mud. The piece evokes this history in impressionistic fashion alongside Lee's personal memories of canoeing through the island's mangrove tunnels. In combining these stories, the continuum of past and present is collapsed, resulting in an exploration of the relationships between memory, history, place, home, and the natural world.
Credits
released November 13, 2020
on New Focus Recordings
music composed by Scott Lee
JACK Quartet
Steven Beck, piano
Russell Lacy, drum set
Produced and edited by Scott Lee
Recording Engineer: Rick Nelson
Recorded at Baldwin Auditorium, Duke University, Durham, NC, April 25, 2018
Mixing: Michael Hammond
Mastering: Ryan Streber
Design: Marc Wolf, marcjwolf.com
Cover Photo: Scott Lee
Made possible with support from the Department of Music and the Office of the Vice Provost for the Arts at Duke University, Duke Performances, and the University of Florida College of the Arts.
Feature – Tampa Bay Times
"There is an illicit, late-night DJ set in an abandoned speakeasy surrounded by 3,000 acres of spindly mangrove roots and mosquito ditches swamped with brackish water. Picture the music floating out to the 1,000-year-old shell mounds left by indigenous Floridians and over the overgrown remnants of the airstrip runway left by those who came much later. You can't go to this dance party, but maybe composer Scott Lee can take you there..."
Review – The Wire
"Compelling...Lee strikes a balance between catchy grooves and dissonance."
Review – The Whole Note
"A welcome escape from my own four walls. This album is great storytelling, an audiofilm of tales of imaginative discoveries... I was captivated." "Lee manages to engage the listener with his blend of contemporary classical and extended jazz techniques, travelling seamlessly between tonalities and poly-rhythmic styles without a single extraneous or gratuitous beat. Each track is expertly crafted to tell a tale of mystery." "Gorgeous composition almost to the scale of Saint-Saens' Carnival of the Animals."
Review – An Earful
"Somehow conjuring everything from noirish swagger to chamber jazz with a string quartet, piano, and percussion, Lee has crafted an album-length piece that is a cinematic blast from start to finish."
Review – BBC Music Magazine
"A knotty, discombobulating adventure."
Review – AllMusic
"The musical construction is eclectic, to be sure, but also logically put together, and overall, this is an exciting work that is both rigorously contemporary and fully accessible."
Review – Gapplegate Music Review
"The music consistently stimulates and retains its refreshing originality throughout. I highly recommended this one for all who like to explore the possibilities of genre gap spanning. Bravo!"
Review – Textura
"A vivid and highly personalized evocation..."
Review – Take Effect
"A listen that's capable of being both dark yet ethereal, Lee's unconventional approach to harmonies and bold approach to songwriting might be quite complicated, but it's also easily accessible to those willing to embark on the journey."
Review – Art Music Lounge
"An interesting album, full of novel ideas that are for the most part well crafted and extremely fascinating."
Feature – Creative Loafing Tampa
"His latest effort is no less extravagant..."
Review – Midwest Record
"Great stuff for when you've got a taste for something deep that won't leave you cold."